Musical Instrument Repair and Maintenance
Keep your instruments looking and playing their best!
Our trained guitar techs set up guitars and basses, repair instruments and amps, and help our customers to maintain their equipment.
Contact Us
Guitar Setup
Our most popular service is guitar setups. Our technicians are in high demand to ensure that artists' guitars, basses, and other stringed instruments play perfectly. Some bands are very particular about who adjusts their instuments, and, oftentimes, members of our staff are flown on location to setup guitars or give a bass a pre-show tune-up so they play just the way the performer likes it.
We adjust the truss rod, replace strings, adjust the intonation, improve the action, and do everything we can to make your instrument sing to your satisfaction.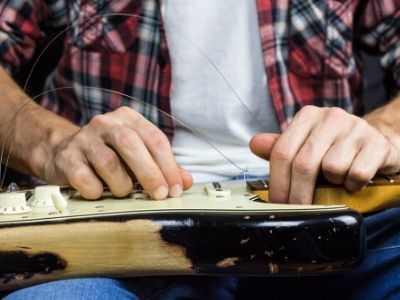 Musical Instrument Repair
It's the worst when our beloved instruments suffer damage. We've heard all kinds of horror stories and have seen it all. Guitars dropped off the back of cars, amps kicked in on stage, warped guitar necks kept in a grandparent's basement, and basses that took a stage dive. We have a knack for working with beat-up equipment and doing our best to get you patched up and on the road again.
We can't always bring an instrument back from the infirmary, but we're damned good at restoring your damaged gear so you can confidently take the stage.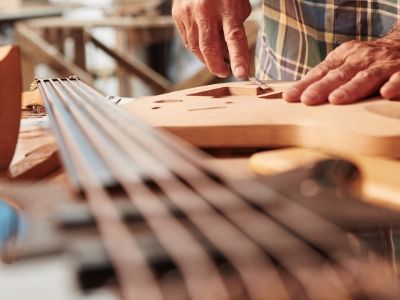 Custom Work
We've been known from time to time to forge our own instruments. But, if you have an idea for something to do to customize your axe, we can see what we can do to make your dream a reality! Musicians sometimes have some very specific needs to make the most out of their performance, and we aim to please with custom guitar work. 
Want a new pickup configuration? We've done that. Want to change the neck? Guess what, we've done that too. Looking for some bad-ass hardware that will turn heads? Yup, we've done that too.
Get in Touch
Have a question about what we have in stock? Have some gear you want to sell?
Click the button below to contact us or find us on the map.